There's a little something for everyone this weekend, from art exhibits to standup comedy, Winter Market finale, dancing, two sausage feeds and a lecture series on "Post Truth America." Even more events can be found in the calendar.
March 1
Members of the Salmon River Art Guild, based in White Bird, will exhibit works in March at Clarkston's Valley Art Center. A reception will be from 4 to 7 p.m. March 1.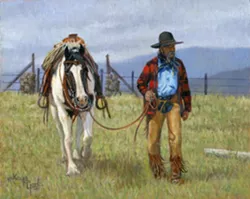 More than 40 original paintings will be on display and for sale during the exhibit which runs through March 30. Refreshments will be served at the reception.
Regular gallery hours are 10 a.m. to 4 p.m. Tuesday through Saturday.
March 1
Joseph Tran of Los Angeles, a magician and comedian, will take to the stage at 8 p.m. March 1 in the International Ballroom of the University of Idaho's Bruce M. Pitman Center in Moscow.
Cost is $5 regular price, and free for UI students with a Vandal Card.
March 2
The Winter Market will conclude its 14th season with the final monthly event from 10 a.m. to 2 p.m. March 2 at Moscow's 1912 Center.
The market is put on by Heart of the Arts Inc. and it will feature more than 30 artisan food and craft vendors inside the center, 412 E. Third St., as well as outdoors on the plaza. Lunch will be available for purchase by "Sushi-Man" Jonathan Rau.
During the market, tours of the unfinished upper floors of the center will be led, starting in the senior center. Tours will start at 10 and 11 a.m., noon and 1 p.m.
March 2
A community contra dance for all ages will be from 6 to 10 p.m. March 2 in Viola, a fundraiser to benefit APOD Theatre Productions, based in Viola.
Instruction is provided for the dance, and no experience is necessary. A variety of baked goods and nonalcoholic drinks will be available for purchase.
Cost is $5 per person or $20 per family. The community center is at 1007 Rothfork Road.
March 3
If you are in the mood for a feed of sausages, March 3 is your day. There are two planned in the region: the 55th annual Reubens Sausage Feed and the 66th annual Uniontown Sausage Feed.
The Reubens Community Church will be host for the Reubens Sausage Feed from 10 a.m. to 3 p.m. March 3 in the Reubens Community Center. The all-you-can-eat breakfast includes Genesee sausage, sourdough and buttermilk pancakes and scrambled eggs. Cost is $35 for an immediate family of four; $10 for ages 12 and older; $6 for ages 6 through 12; and free for ages 5 and younger.
A silent auction will be held during the breakfast and live music for listening and dancing will be provided by the Banana Belt Fiddlers.
The Uniontown Sausage Feed will be 10 a.m. to 5 p.m. March 3 in the Uniontown Community Building along State Route 195.
The all-you-can-eat-meal is available for dining in or to go, and a beer garden will be available for those 21 and older. The menu includes sausage made by community members, mashed potatoes, sauerkraut, green beans, applesauce, rolls, pie and beverage.
Cost is $13 regular price, $9 for ages 6 to 12 and $2 for ages 5 and younger. Tickets are available at the door for cash or check only.
March 3-5
Mickey Huff, a media literacy expert and director of Project Censored, will speak in Moscow, Pullman and Lewiston next week.
-- At 6 p.m. March 3, Huff will give a talk titled "Fighting the Fake News Invasion: Why We Need Community Media and a Truly Free Press" sponsored by KRFP Radio Free Moscow at the 1912 Center in Moscow, 412 E. Third St. Cost is $10.
-- March 4, Huff will speak in Pullman and Moscow. He will give a talk titled "Fighting the Fake News Invasion in 'Post-Truth' America" at 11 a.m. March 4 in Room 218/220 of Goertzen Hall on the Pullman campus of Washington State University.
-- Later March 4, he will speak at 3:30 p.m. in the Whitewater Room of the Idaho Commons on the Moscow campus of the University of Idaho, 875 Line St. That presentation is titled "Fighting the Fake News Invasion: Critical Media Literacy in an Era of Digital Propaganda and Censorship."
-- Finally, Huff will again give the presentation titled "Fighting the Fake News Invasion in 'Post Truth' America" at noon March 5 in Room 115 of Sacajawea Hall on the Lewis-Clark State College campus in Lewiston.
Project Censored was founded in 1976, and Huff also is president of the nonprofit Media Freedom Foundation. His most recent book, edited with Andy Lee Roth, is "Censored 2019: Fighting the Fake News Invasion."