By JEANNE M. DePAUL
arts@inland360.com
A play's world premiere, a spaghetti feed fundraiser and lots of music are on the menu over the next week.
Feb. 7
A play written and directed by two graduate students at the University of Idaho will be staged for the first time Feb. 7 at the Forge Theater on the UI's Moscow campus.
"Deep Calls" is written by Kendra Phillips and directed by K.T. Turner, both Master of Fine Arts candidates in theater. It opens at 7:30 p.m. Feb. 7 and continues at 7:30 p.m. Feb. 8, and 12-14. Matinees begin at 2 p.m. Feb. 8-9 and Feb. 15.
"Deep Calls" centers on Carson, a young woman attempting to leave a life of prostitution, according to a news release. The play moves between two worlds, one of fantasy and one of harsh reality, and the people who populate these worlds including a pimp named Porcupine, woodland creatures and a woman who is helping her to heal and build a sense of self-worth.
The show contains mature subject matter and language and is not for children. Cost is $7 to $16, and free for UI students. Advance tickets are available at the Department of Theatre Arts in Room 201, Shoup Hall or by calling (208) 885-6465.
The Forge Theater is at 404 Sweet Ave.
Feb. 7
The Maple Bars, a rock band based in Clarkston, will take the stage at 9:30 p.m. Feb. 7 at John's Alley in Moscow.
Band members are Mason McCroskey, Nathan Golla, Laki Ah Hi and Bill Wilcox.
The venue is at 114 E. Sixth St., Moscow. Admission is $5.
Feb. 8
The fifth annual Share the Love Spaghetti Feed, a fundraiser to benefit Helping Hands Rescue, will be from 4-7 p.m. Feb. 8 at the Salvation Army in Lewiston.
On the menu is spaghetti, salad, bread and dessert. The event also includes a silent auction, which closes at 8:30 p.m.
Cost is $30 for a family of two adults and two children, $10 regular price, and $7 for ages 10 and younger.
Helping Hands is a nonprofit, all-volunteer animal rescue organization based in Lewiston, according to the organization's social media page.
The Salvation Army is at 1220 21st St.
Feb. 11
Washington State University professor Lawrence Pintak will give a presentation titled "Islamophobia & American Elections" at noon Feb. 11 in the Foley Speaker's Room 308 in Bryan Hall on the Pullman campus.
Pintak is a professor of communication and was the founding dean from 2009-16 of the Edward R. Murrow College of Communication at WSU. In his latest book, "America & Islam: Soundbites, Suicide Bombs and the Road to Donald Trump," he addresses Islamophobia in the United States after 9/11 and how it has evolved during the Trump era, according to a news release.
Feb. 11
James Reid, a University of Idaho professor of music since 1978, will give a guitar recital at 7:30 p.m. Feb. 11 in the Haddock Performance Hall on the UI's Moscow campus.
Reid is director of the guitar program at UI and also teaches a class on the history of rock 'n' roll. He is founder, in 1991, of the Northwest Guitar Festival and has released seven solo recordings, according to his website.
Admission is $6 regular price, and $4 for students and senior citizens.
Feb. 11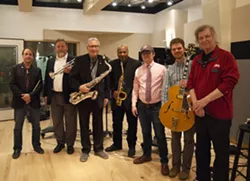 The Washington State University faculty ensemble Jazz Northwest will present "Collective Excellence," a concert featuring original compositions and arrangements by the group's members, at 7:30 p.m. Feb. 11 in Kimbrough Concert Hall on the school's Pullman campus.
The concert is part of the Faculty Artist Series, and sales of tickets for the series benefit the WSU School of Music Scholarship Fund.
Cost is $10 regular price, $5 for non-WSU students and those age 55 and older, and free for WSU students.