By JEANNE M. DePAUL
arts@inland360.com
The rush of activities and events always slow down a bit as a holiday approaches. But we've dug up a few gems for you here.

Nov. 21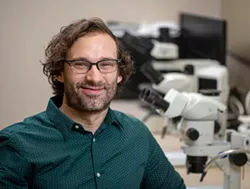 A doctoral student at Washington State University in Pullman will give a presentation about ancient tattoos at 6 p.m. Nov. 21 at the Moscow Public Library.
Andrew Gillreath-Brown's presentation is titled "Ancient Tattooing: An Overview of Tattoo Tools and Traditions Through Time." His writing was published in the Journal of Archaeological Science: Reports earlier this year for his identification of the oldest tattooing implement in western North America. His presentation will include a demonstration of the cactus spine tattoo tool replicas he used for experimental tattooing. Attendees also will have the opportunity to try an experimental tattoo.
The library is at 110 S. Jefferson St.
Nov. 21
The University of Idaho Concert Band and Wind Ensemble will give a concert at 7:30 p.m. Nov. 21 in the UI Administration Building auditorium on the Moscow campus.
The band is directed by Jason Johnson, while the wind group is directed by Mark Thiele.
Admission is $6 regular price, and $4 for students and seniors.
Nov. 22
The Tri-State Hospital Foundation's 35th annual Festival of Trees Community Day is from 4-8 p.m. Nov. 22 at the Lewiston Elks Lodge with a memorial ceremony honoring loved ones beginning at 6 p.m.
There is no charge, and visitors may peruse 13 Christmas trees decorated in a variety of themes. Hot chocolate and cookies will be offered, and shopping for miniature trees, wreaths and gifts will be available.
A gala dinner, auction and dance set for Saturday is sold out.
The annual event raises money for the foundation to help meet the rising cost of health care needs for patients served by Tri-State Memorial Hospital & Medical Campus.
The Elks is at 3444 Country Club Drive.
Nov. 23
Check-in and registration for the Seaport Striders Running Club's 30th annual Turkey Trot & Walk begins at 9:30 a.m. Nov. 23 next to the Swallows Park boat launch along State Route 129 in Clarkston.
The registration fee for this low-key 4-mile run is $1, and drawings for turkeys and pies will be held. The run, which begins at 10 a.m., is one way, starting at the park and ending at the Asotin High School football field.
Registration forms and information is available online at www.seaportstriders.com.
Nov. 26
Lewiston author and historian Steven Branting will give a presentation about his latest book at 2 p.m. Nov. 26 at Lewiston's Royal Plaza Retirement Center.
Branting's latest book is titled "The Words that Were Our Names: An LCSC Scrapbook," and the afternoon also will include a book signing. He is a retired Lewiston teacher and author of a series of books about Lewiston history.
The retirement center is at 2870 Juniper Drive, Lewiston.