There's so much going on, you'll find it impossible to fit it all in. But do your best, because December only comes around once a year. More events may be found in the calendar.
Nov. 29
A University of Idaho historian will give a talk about a missionary from Walla Walla at 4 p.m. Nov. 29 on the UI campus in Moscow.
Jeff Kyong-McClain will give a talk titled, "A Man from Walla Walla and the Birth of Modern Archaeology in China," in Room 28 of the Teaching & Learning Center. The subject of his talk is David Crockett Graham, who grew up in Walla Walla, traveled to China first as a Baptist missionary in 1910, and transformed himself over the next three decades into an archaeologist.
Kyong-McClain holds a doctorate in history from the University of Illinois in Urbana-Champaign and is co-director of the UI's Confucius Institute.
Nov. 30
The 50th annual Gritman Medical Center Auxiliary Holiday Delights gala will be 6 to 9 p.m. Nov. 30 at the Best Western Plus University Inn in Moscow.
The event is the auxiliary's fundraiser with proceeds going to support health care in the region. It will feature wine-tasting, hors d'oeuvres and a silent auction.
Cost is $30 and tickets may be purchased online at gritman.org/holidaydelights.
The inn is at 1516 W. Pullman Road.
Dec. 1
The 60th annual Pullman Kiwanis Pancake Breakfast and Music Fest will be from 7 to 11 a.m. Dec. 1 at Pullman's Lincoln Middle School, 315 S.E. Crestview Drive.
The menu features pancakes, scrambled eggs, ham, fruit and beverages at a cost of $7 regular price and $3 for ages 3 to 12.
In addition to a tasty breakfast, attendees may enjoy live music by the Snake River Six, Auf Gehts German band, and Pullman High School and LMS music groups. A silent auction will continue through the event.
Advance tickets may be purchased at Neill's Flowers & Gifts, 234 E. Main St.; Dave Christy State Farm Insurance, 650 Bishop Blvd., Suite 100; and Pullman Disposal Services, 135 N.W. Harold St.
Money raised from ticket sales and the silent auction benefits the Pullman Kiwanis Club's activities and projects serving children and the community.
Info: kiwanisclubofpullman.org/pancake-breakfast-and-music-fest/
Dec. 1
Holiday roundup: Kick off December by making the rounds of some craft fairs, bazaars and open houses in this region. They're all in the morning, so you may have to hurry, but remember to drive safely.
The events include:
-- Winter Market, 10 a.m.-2 p.m., 1912 Center, 412 E. Third St., Moscow. l 22nd annual Beadwork Bazaar, 9 a.m.-3 p.m., Nez Perce National Historical Park visitor center, 39063 U.S. Highway 95, Spalding.
-- 39th annual Lewis-Clark State College Christmas Craft Fair, 9 a.m.-3 p.m., LCSC Activity Center, 500 Eighth Ave., Lewiston.
-- St. Mary's Catholic Church Christmas Bazaar, 9 a.m.-noon, Rebekah Hall, Potlatch.
-- 49th annual Ladies of the Round Table Craft, Baked Goods and Pie Sale, 9 a.m.-2 p.m., Palouse Community Center, 220 E. Main St. Event features drawings and homemade pie for $5 a slice. Proceeds benefit scholarships provided to Garfield-Palouse High School seniors.
-- Annual Appaloosa Museum & Heritage Center Open House, 10 a.m.-noon, 2720 Pullman Road, Moscow. Santa Claus will arrive riding his Appaloosa horse at 10:15 to hand out treats and visit with children. Santa's Appaloosa will be available for photos.
Dec. 1
"Joy to the World: A Global Holiday" is the title of the Washington State University School of Music's annual holiday concert from 2 to 4 p.m. Dec. 1 in the Bryan Hall Theatre on the Pullman campus.
The holiday concert features the WSU Madrigal Singers, Treble Choir, Tenor/Bass Choir, Concert Choir and the Symphony Orchestra, and will include seasonal favorites. It will conclude with Leroy Anderson's Christmas Festival, featuring all of the performing groups.
Tickets will be on sale at the door beginning 45 minutes before the concert. Admission is $15 regular price, $10 for students and seniors, and free for children 12 and younger.
The WSU Madrigal Singers, performing in English Renaissance costumes, and the WSU Concert Choir both are directed by Lori Wiest; the WSU Tenor/Bass Choir is directed by Dean Luethi, the WSU Treble Choir is directed by Chris Nakielski, and the WSU Symphony Orchestra is under the direction of Danh Pham.
Dec. 5
Zion I brings rap and hip-hop to John's Alley in Moscow Dec. 5.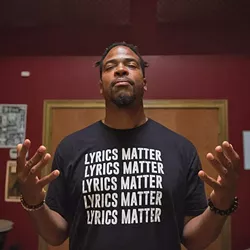 Zumbi, MC/producer, is currently the sole member, hailing from Oakland, and is working on his 11th studio album. State of Krisis will also perform at the show, which is scheduled to begin at 9:30 p.m.
Tickets are $15 in advance, and $20 at the door.
John's Alley is at 114 E. Sixth St.