It's a new month, and with the turning of the calendar, you'll find new exhibits, concerts and festivals to try.
Sept. 5
"Colors of Fall," appropriately, is the next exhibit at the Blue Mountain Artisans Guild exhibit space in Pomeroy, and will open with a reception from 5-6 p.m. Sept. 5. Refreshments will be served.
Photographer Vicky Sjoberg of Asotin is the featured artist, and works by the guild's summer students will be the featured junior artists.
The exhibit will continue through Oct. 30. The exhibit's regular hours are 10 a.m. to 5 p.m. Tuesday through Friday, and 10 a.m. to 2 p.m. Saturday. It's at 745 Main St.
Sept. 6
Jennifer Norman of Lincoln City, Ore., will exhibit her mixed media works and assemblages as the featured artist at Valley Art Center in Clarkston, opening with a reception from 4-7 p.m. Sept. 6.
Refreshments and light appetizers will be served.
Norman writes in an artist statement, "Preserving tradition and history is important in any culture and for me that means the Native American culture. Each one of my pieces has a connection with nature, whether it be in the materials used or a depiction of an animal that was significant to a specific region."
The show will continue through Sept. 28 at the center, 842 Sixth St. Regular hours for the exhibit are 10 a.m. to 4 p.m. Tuesday through Saturday.
Sept. 6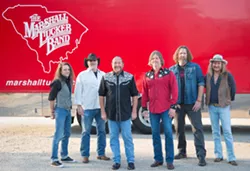 The Marshall Tucker Band will bring its brand of Southern rock to the stage of the Clearwater River Casino event center east of Lewiston beginning at 7 p.m. Sept. 6.
The band first formed in Spartanburg, S.C., and founding member Doug Gray provides lead vocals and plays tambourine. Other members are B.B. Borden on drums; Tony Black on bass guitar and vocals; Chris Hicks and Rick Willis, both on guitar and vocals; and Marcus James Henderson on keyboards, saxophone, flute and vocals.
The band is best known for its hits "Heard It In A Love Song," "Can't You See," "Fire On The Mountain" and "Take The Highway."
Tickets cost $25 to $50 and may be purchased online at www.ticketswest.com or at the venue box office. The casino is at 17500 Nez Perce Road.
Sept. 7
The biannual Quilt Walk display in downtown Grangeville will be from 9 a.m. to 5 p.m.
More than 200 quilts will be displayed along Main Street, and more than 80 additional quilts will be auctioned, with proceeds to benefit Animal Rescue Foundation and the Lewis-Clark Animal Shelter.
Activities include quilt demonstrations in Heritage Square, a quilt-related scavenger hunt and sidewalk chalk art.
Sept. 7
The sixth annual RiverFest will be from noon to 5 p.m. Saturday at the Port of Clarkston's Granite Lake Park.
Food and craft vendors will have wares for sale, and children's activities will be set up at the free event.
Sept. 9
The latest talk in the "Science on the Palouse" series, titled "The Hidden Cocktail Threatening Lake Coeur d'Alene," will begin at 6 p.m. Sept. 9 in the Center at Colfax Library.
Rebecca Stevens, restoration and hazardous waste program manager for the Coeur d'Alene Tribe, will give the presentation, which will focus on the people who inhabited the area for thousands of years, land management legacies, historical effects and the future health of Lake Coeur d'Alene.
The presentation is geared toward adults, but youth ages 10 and older are welcome. The library is at 102 S. Main St.