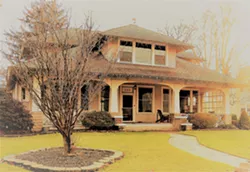 The grand exteriors of historic homes leave many people wishing they could see inside. Next weekend, people can satisfy their curiosity at a holiday tour of historic Lewiston homes.
The Dec. 10 tours will feature three Lewiston homes, holiday foods and alcoholic and non-alcoholic beverages. A street trolley will transport people between locations.
"This is the first time anything like this has been put together and people have been begging to see these
houses," said Garry Bush, who is helping organize the tour as a fundraiser for the Nez Perce County Historical Society.
Tours start at the 1897 Heritage House, one of four remaining homes that were original downtown residences, said Bush. Also known as the Nutting home, it is now owned by the Nez Perce County Historical Society and houses an array of artifacts. A pianist will perform on an 1870s coffin-style Steinway piano in the home during the tour.
From there the tour proceeds to the Loring bungalow which overlooks west downtown from Normal Hill. Now owned by the Emersons, the home is one of the first bungalows built in the area, Bush said. The style falls between the Victorian and Craftsman eras. The home contains the original tile brought from California in 1909, a wrought-iron fireplace and cut-glass windows, he said.
The final house is Bridablik, built in 1906 on the bluff of Normal Hill behind what is now St. Joseph's Regional Medical Center. The Tudor-style home features 11 gables and was built by Ole Kjos, who also built downtown Lewiston's Towne Square, Bush said. It's now owned by the Schroeders, who dress in period clothing and provide tours to hundreds of visitors on Columbia and Snake River cruises. The home is furnished with rare antiques such as a hall tree and mirror said to have once been owned by Al Capone, Bush said.
Homeowners will guide visitors through the private residences. Bush will provide history on the trolley ride between stops. If the tours prove popular, Bush said he hopes to bring them back as an annual event.
Tours start at 4 p.m., 4:30 p.m. and 5 p.m., Dec. 10. Each tour is limited to 20 people and will last an hour and a half to two hours. Tickets are $45 and must be purchased in advance. They can be obtained online at www.idahohistorytours.com, or by emailing or calling Bush at garrylbush@gmail.com or (208) 790-1257. Tickets are also available at the historical society museum. If there is enough interest more tours may be added, Bush said.
If You Go What: Holiday tours of three historic Lewiston homes When: Dec. 10, 4 p.m., 4:30 p.m. and 5 p.m. Where: Tours begin at the Heritage House, 0306 Third St., Lewiston Cost: $45. Tickets must be purchased in advance and are available at www.idahohistorytours.com.