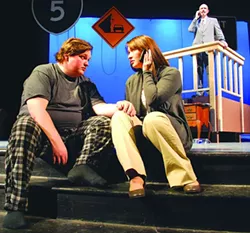 University of Idaho graduate student Zac Curtis has had a lot to look forward to spring semester.
He's already welcomed his first child into the world and is currently putting the finishing touches on his Master of Fine Arts degree by directing a mainstage production - not a bad note to close his UI career.
His daughter was born during the rehearsal run for "Becky's New Car" by Steven Dietz. The play is the third mainstage production in the UI Department of Theatre Art's lineup. Curtis said the play couldn't have come around at a more convenient time. He is currently living through many of the themes within the play.
"This is a show about family and love, and finding our way through life," he said.
The play centers around Becky, wife in a 28-year marriage, mother to a 26-year-old live-in son and employee at a local car dealership. Though Becky is content with her routine life, she is swept up by the appeal of millionaire widower Walter Flood. When he steps into her office looking to buy a car, or several, Becky forgets to correct him when he assumes she, too, is newly widowed. The resulting double life tests Becky's limits while revealing happiness in unexpected places.
"This is a beautiful play that really resonates with me," Curtis said. "What do we do when life slows to a standstill? How hard are we willing to fight to break through the obstacles, and how will we respond to temptations? These questions really resonated with my life, and I am excited to tell this story of Becky's journey."
Curtis said the biggest challenge for actors will be age.
"Our challenge will be to tell this story of a woman's frantic life careening out of control," he said. The show includes "characters of age who have gone through life experiences - marriage, children, loss of a loved one - things most university actors have not gone through. Actors will need to be able to access the character's struggle and find their connection to these people."
UI senior Richard Sean Glen said he has found that connection. Although Becky's husband "Joe" isn't a man known for public displays of affection, Glen said audience members will find him easy to relate to.
"He has an incredibly big heart ... he's loyal ... He really is the type of husband and father that I hope to someday be."
The audience will also need to ready themselves for a wild ride. Becky sprints from different aspects of her life without slowing down for scene or costume changes. Becky speaks directly with the audience and welcomes the group into her home and her hectic life, something Curtis said will help the audience relate the play to their own lives.
"This is a welcoming and loving show, and that is set up from page one," Curtis said.
Curtis received his Bachelor of Arts in Theatre from Colorado State University. He taught and directed high school theatre in Colorado for five years before returning to school for his M.F.A. Last year, he directed UI's mainstage production of Adam Harrell's Guardian. He also directed "Sylvia" by A. R. Gurney at Yakima Valley Community College, and "Wonder of the World" by David Lindsay-Abaire at Lewis-Clark State College.
"Becky's New Car" shows 7:30 p.m. Feb. 28-March 3 and 2 p.m. March 4 in the UI Hartung Theater on the corner of Sixth Street and Stadium Drive.
General admission is $10. Tickets are free to UI students. UI faculty and staff, and Washington State University students are $8. Tickets can be purchased by calling (208) 885-7212.
---
IF YOU GO
WHAT: "Becky's New Car"
WHEN: 7:30 p.m. Feb. 28-March 3; 2 p.m. March 4
WHERE: Hartung Theater, UI campus
COST: $10 general admission, $8 WSU students, UI students free