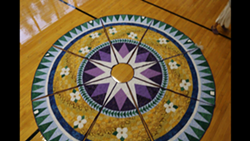 Idahoans made 18,000 ornaments to adorn the trees that will deck the halls of the U.S. Capitol this year. They include some local contributions, according to Pattie Soucek, the Planning Staff Officer at the Payette National Forest.
Members of the Nez Perce Tribe made Appaloosa horse ornaments, representing Idaho's state horse.
Children at Cavendish Teakean Elementary, a one-room schoolhouse in Lenore, made caribou and reindeer
ornaments; sixth-graders at Potlatch Elementary School made star garnets to represent the state gem.
A 9-foot tree skirt was designed and quilted by Julie Huffman of Lenore. It will be displayed in the USDA Building in Washington, D.C., under a 25-foot-tall tree. Its pattern represents the snow-capped mountains, flying geese, fields, waterways and trees. The Idaho State Song is quilted on top.
Wheat ornaments were donated by Huffman Farms of the Cavendish-Orofino area. The bundle of wheat tied with a red and gold ribbon is Huffman Winter Wheat. It is named after Brad Huffman, who was an agricultural researcher for the University of Idaho, Soucek noted.
2016 Ornament Trivia What does it take to make 18,000 ornaments? Here's a look at some of the numbers.
900 gallon milk jugs 20 pounds of glitter 2 gallons of glue 3,000 google eyes 7,000 aluminum cans 2,000 pipe cleaners 18,000 feet of ribbon 15,000 popsicle sticks 1,600 feathers 2,500 pom poms 300 cans of spray paint 9,000 tree hooks