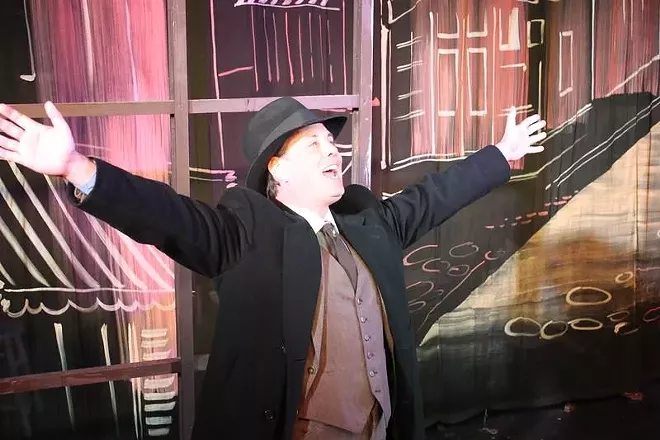 By JILL WILSON
For Inland 360
For those who enjoy musicals, "She Loves Me" is a hidden gem and a classic that was ahead of its time, according to John Rich, artistic director for Pullman's Regional Theater of the Palouse which is reviving the romantic comedy for fans and a new generation that has never seen it.
"She Loves Me" features songs composed by Sheldon Harnick (lyrics) and Jerry Bock (music) -- the same duo who wrote the music for "Fiddler on the Roof." The story centers on Amalia and Georg, two shop clerks at a 1930s European perfumery. Though they are adversaries at work, they are unknowingly writing love letters to each other through a lonely hearts ad in the local newspaper.
"This is a really magical show that a lot of people don't know but they should know," said Rich, of Pullman. "It's more of an intimate show where the lyrics and dialogue are really important."
It's Rich's dream to deliver professional-quality theater to local audiences and to hold a space for aspiring performers to nourish their dreams.
"I feel that it's a duty to keep the arts alive. We want to go into the direction of having more of a professional theater in town where people can learn and grow, and at the same time we have a very high standard of theater that our patrons will enjoy."
For that reason the production is a mix of local actors, those from outside the region and professional and aspiring performers. RTOP holds open auditions for all roles in its productions in Pullman and digital auditions for people from outside the area.
"It's a good training ground for those who want to go into the entertainment field so they can see how professionals work. It's a great place to work with people who are very passionate and very driven," Rich said.
RTOP's production of "She Loves Me" stars Moscow native Anjuli Dodhia and John Adkison, a professional actor from Sonora, Calif., who has made a living in the entertainment industry for nearly 20 years.
Dodhia, who studied music and vocal performance at Washington State University, said the three professional actors in the show have provided a valuable example for everyone.
"They bring a level of professionalism that we all rise up to," said Dodhia.
Adkison auditioned digitally in California for the starring role of Georg Nowarck. Digital auditions are increasingly common, Adkison said.
"The business has become sort of digital. It's great for places like RTOP who maybe can't get to larger cities to hold auditions, but there are people there who want to work. Part of the reason I accepted this job is because I love the show and because I have family in the area," said Adkison.
After a lifetime in the entertainment industry, Rich enjoys passing on his knowledge and encouraging people to follow their dreams.
"I always tell actors that they can do it. Just do your research. Pursue something that you love because you're going to be doing it every day for the rest of your life."
IF YOU GO
WHAT: Regional Theatre of the Palouse production of "She Loves Me."
WHEN: 7:30 Thursday, Friday, Saturday, Wednesday, next Thursday and Feb. 21 and 22.
1:30 p.m. Saturday, Sunday and Feb. 22 and 23.
WHERE: Regional Theater of the Palouse,122 N. Grand Ave., Pullman.
COST: $19.99 general admission. Shows often sell out, so advance purchase is advised by contacting the box office at (509) 334- 0750 or www.rtoptheatre.org.