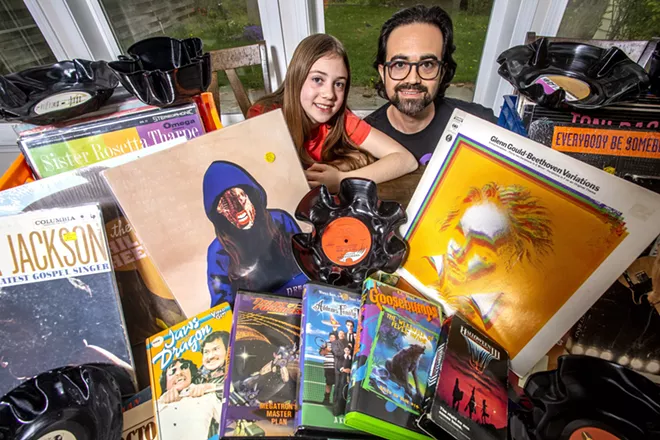 The Swap founder Will Thompson shared an anecdote that captures the heart of his pop culture exchange.
He was working the door a few years ago when a teenager — "kinda looked like your average nerd" — walked in with what Thompson described as a "blank, kinda lonely" look. When the kid left about an hour later with a stack of comic books it took both hands to hold, it was the transformed look on his face that got Thompson.


"To me, that's what it's about," he said.


Which is to say buying and selling pop culture collectibles is an activity beyond simple financial transactions.


"It's pretty obvious that this is a fairly nerdy event. For anyone who's ever wondered maybe why are folks into this stuff or what is a convention atmosphere like (even without panels and guests), I think it's a great chance to see like-minded folks with specific interests," Thompson said. "It's just a fun environment to be in."


The Swap, set for Saturday, April 30, at Riverport Brewing Company in Clarkston, promises a return of that milieu after two years of absence forced by COVID-19 restrictions.
Sixteen vendors from the Quad Cities of Lewiston, Clarkston, Moscow and Pullman will be on hand to share gems from their own collections with which they are ready to part. Some are primarily toy-dedicated, selling action figures; others offer a mix of toys, video games and movies; there will be a few vinyl-exclusive tables; and Thompson said he expects to see some quirky paperbacks and comics. In fact, Moscow comic shop and Swap collaborator Safari Pearl is bringing several thousand comic book back issues.


A new seller for this fourth year of the event will be Thompson's 9-year-old daughter, Eleanor, who crafts bowls out of no-longer-playable vinyl records.


"We are applying just enough heat to them to make them malleable and getting them into various shapes and letting them harden," Thompson said, of the process he and Eleanor use to repurpose the records into containers of various shapes.


It's no surprise she gravitated to selling a record-based craft: "I've been into records for just about as long as her memory has worked," Thompson said. "I think she has my mother's side of the family's entrepreneurial genes."


Marvin Lee at Greenfield Company in Clarkston assisted in the endeavor: "He helped us find a number of records that were beyond playable," Thompson said.


Thompson, who teaches media studies, communication and audio/visual classes at Jenifer Junior High in Lewiston (and contributes a monthly Cult Corner column to Inland 360), will be joined by fellow Jenifer teacher Alex Church at The Swap. Church, who has a knack for discovering eclectic items at area yard sales, will have a table where every item is $5, including books (classics, zombies, pop culture and music), records and toys.


Affordable prices are one of the pleasures of an event like The Swap, Thompson said, making it a good entry point for newbies.


"This is something you can bring your kids to and for every level of collector from the casual person who might be just starting out or not really know what they want — it's a great place to make a discovery to come and talk to someone," he said.
He's confident people will find a treasure of two, something that intrigues them, and even more sure they'll find a welcoming group of collectors.


"And that's really my favorite thing," he said. "When I go home, and I'm exhausted from the day and processing it, it's the community … and the connections that we make."


Stone (she/her) can be reached at mstone@inland360.com.
———

If You Go
What: The Swap — Vendors selling pop culture collectibles, including comic books, records and action figures.
When: Noon to 6 p.m. Saturday, April 30.
Where: Riverport Brewing Company, 150 Ninth St., Clarkston.
Cost: $5 for ages 6 and older.
Of note: Food by Ho'okipa's Teriyaki Hut.