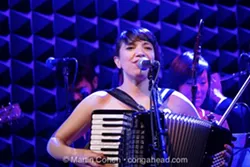 The fifth annual World Music Celebration at the University of Idaho gathers sounds, rhythms and languages from around the world for a weekend of entertainment and learning.
Here's a quick look at one of this year's featured musicians, Magda Giannikou.
Name: Magda Giannikou
Birthplace: Athens, Greece
Instruments of choice: Accordion, piano, vocals
Music influences: "My parents were very open-minded people and played music from all over the world. I had the fortune of growing up with all these sounds. So as I grew up and heard more, there was already a base there. They also were very keen on me learning foreign languages."
Music genre: Giannikou performs with her band, Banda Magda, which doesn't fit squarely into a music genre. Their music has elements of jazz as well as influences from Brazil, Argentina and Colombia. Arriving at that sound was no accident; it took years of study and trying new things.
"What I wanted to do with music didn't really fit into a category. It was hard to piece it together. But this process was necessary and now that I've found the people who I want to create music with, we have an audience that has found this music represents them or is exciting to them. Earlier in the process I didn't know where I belonged, but now it makes total sense."
Languages spoken: Greek, English, French, Italian, Spanish, Portuguese
On use of various languages in music: Although she speaks flawless English, her songs are never written in English -- a decision that brought rejection by certain music labels but was best for her music, she said. For her, using language is part of the fun of composing and she encourages students not to be afraid of using languages, even if their understanding is limited. Her first song in French was composed when she only knew 10 words of it. "It sounds cool," she said, "it's minimalistic and cute."
Connecting with English-only audiences: Her audiences are often made up of people who don't speak the languages she's singing. That hasn't seemed to be a problem. Fans can often understand the "meaning" of songs, even if they don't know the language, and have told her that her music gives them the opportunity to "travel" and experience other cultures.
"What connects us with our fans, whether they speak the language or not, is emotion. Emotion and groove and rhythm."
On the shared challenges of trying something new -- whether a new language or new music style: "It's the same feeling of unfamiliarity. We are afraid of it or we are afraid of failure, we're afraid it won't sound good. But when you move away from something and come back, it makes more sense. You take it somewhere else where it is a bit uncomfortable and then you go back."
IF YOU GO:
WHAT: World Music Celebration
WHEN: 7:30 p.m. Friday, featuring Magda Giannikou, Navin Chettri and UI student groups; 7:30 Saturday featuring Giannikou, Habib Iddrisu and UI student groups
WHERE: University Auditorium, University of Idaho, Moscow
COST: $8/adults, $5/students and senior citizens; tickets available at the door
MORE: A free world music workshop is offered 1 p.m. Saturday at the UI Haddock Performance Hall.