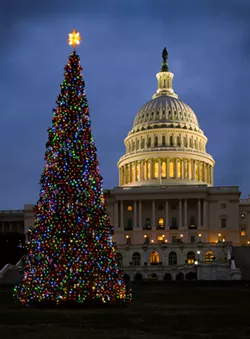 For many, choosing the perfect Christmas tree is an important holiday task. Selecting the nation's Christmas tree takes a bit more work.
This year Idaho will provide the U.S. Capitol Christmas Tree to stand on the West Lawn between the White House and the Washington Monument.
The 80-foot-tall tree, an Engelmann spruce, was cut Nov. 2 at McCall's Little Ski Hill on the Payette National Forest. Its three week journey to Washington, D.C., includes stops today in Spalding and Moscow.
Here are seven facts about Idaho's contribution to the holiday season.
1. The Capitol Christmas Tree differs from the National Christmas tree, which is planted near the White House and lit by the president and first lady. The Speaker of the House officially lights the Capitol tree, also known as "The People's Tree."
2. The U.S. Forest Service has provided the Capitol tree since 1970. The tree is required to be between 65 and 85 feet-tall, conical in shape and have full branches all around.
3. This is the second time Idaho has provided a Capitol tree. In 2003 it sent an Engelmann Spruce from the Boise National Forest.
4. Payette National Forest workers cut the 2016 tree with a cross-cut saw as a way of honoring the state's logging history.
5. The tree travels across the country in a special trailer with a Plexiglass window.
6. Along with providing a massive tree for the West Lawn, the selected state provides 70 smaller trees to be showcased throughout the Capitol.
7. In Washington, D.C., the tree will be decorated with thousands of ornaments created by Idahoans before being lit Dec. 6.
If You Go What: See the U.S. Capitol Christmas Tree
When: -10 a.m. to noon Thursday, Nov. 10, Nez Perce National Historical Park at Spalding
-2 to 4 p.m. Thursday, Nov. 10, ASUI Kibbie-Activity Center parking lot, Moscow. A brief program at 2:30 p.m. will feature Joe Vandal, Smokey the Bear, the UI Marching Band, Vandaleers and the jazz choir. Hot cocoa, Christmas cookies and Idaho potato chips will be available.
-10 a.m. to noon, Friday, Nov. 11, Between First and Second streets on Sherman Avenue, Coeur d'Alene Cost: Free