By JENNIFER K. BAUER
jkbauer@inland360.com
There's something romantic and picturesque about an artist working outdoors, attempting to capture a grand vista with a mere brush and canvas.
However, plein air, or painting outdoors, intimidates many artists because nature won't stand still. The light is always changing; one moment is never the same as the one that came before.
That's why every artist should do it, said artist Kelsey Grafton. "It changes the way you see."
Each year Grafton oversees "Rivers & Vines," an annual plein air competition presented by the Lewis-Clark State College Center for Arts & History. Over the course of a week last month, new and veteran artists painted at locations around the Lewiston-Clarkston Valley in all kinds of weather. Paint-outs began on a rainy morning at the Clearwater Canyon Cellars vineyard in Lewiston. Another day, artists saw dawn from the Vista House on the Old Spiral Highway. A night was spent at Chief Timothy Park capturing evening and morning scenes beside the river.
Artists will show the works they created in an exhibit opening with a reception at 5 tonight at the center. Competition winners will be announced at 6 p.m., and juried cash prizes of $500, $300 and $200 will be awarded.
Artists interested in plein air don't have to wait until next year's "Rivers & Vines." This fall, the Colfax Arts Council will present "Inspired Palouse," a competition inspired by plein air that is open to all media, including fabric art, sculpture and photography. While works must have an open-air perspective, they need not be completed on location outdoors. Instead, they must focus on a subject from within a 75-mile radius of Colfax. The council will award more than $500 in prizes to top juried winners. Submissions are due by Sept. 29. More information is available by emailing inspiredpalouse@gmail.com.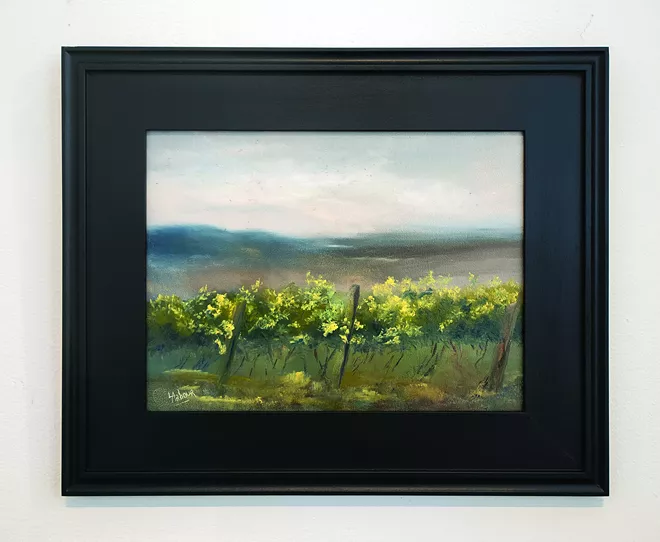 IF YOU GO
WHAT: "Rivers & Vines"
WHEN: Opening reception 5 p.m. Thursday, July 19
WHERE: Lewis-Clark State College Center for Arts & History, 415 Main St., Lewiston
COST: By donation
OF NOTE: The exhibit runs through Aug. 18. Gallery hours are 11 a.m. to 4 p.m. Monday through Saturday.